Coleman Folding Camp Wagon for $79.99 @ Costco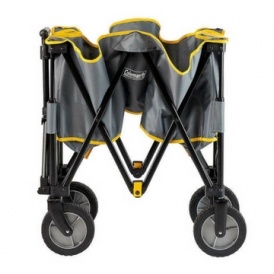 If you've been looking for the Mac Sports Folding Wagon (also just known as the Costco Folding Wagon), you probably know it's been out of stock at Costco Canada for a while now.
But I have good news. There's a new wagon available at Costco.ca – and it only costs $79.99 shipped!
It's the Coleman Folding Camp Wagon, and it's in stock right now.
The entire thing folds up accordion-style, so you can easily pop it in your trunk whenever you need to do a grocery run or want to lug all your gear down to the beach.
It's built on a sturdy steel frame that will support up to 150 lbs (so you can take the kids for a ride when they're getting too sleepy to walk). A carry bag is also included.
Somehow, this wagon isn't actually listed for sale on the Coleman Canada website. The only other place I could find it was on Amazon.ca, but prices there start at $109.99 – so I'd definitely check out Costco if you want to get one.
Shipping and handling are included when you shop online at Costco. Because of this, you may be able to find the wagon a little cheaper at a warehouse.