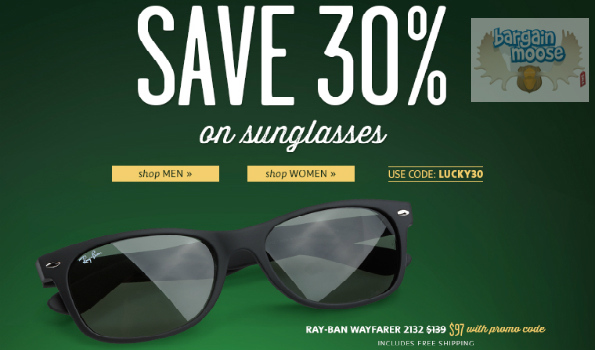 Summer is on it's way and Clearly Contacts is helping you get ready with a great discount on their line of various designer brand sunglasses.
Click to get FREE shipping + 30% off Designer Sunglasses @ ClearlyContacts.ca
Coupon Code: LUCKY30
Discount: 30% Off Designer Sunglasses
Expiry: 25th March 2013
Among the tons of online glasses retailers, there are essentially two quality levels. There are the no-namers like Firmoo and Zenni and there are the brand-namers like ClearlyContacts Canada. I, personally, use the no name guys becuase out of the last four pairs of glasses I've owned, I've broken three. It didn't bother me much because they were $15 pairs of glasses. But I am wearing $15 pairs of glasses instead of some sweet designer gear.
ClearlyContactsCanada is the way to go if you are able to own nice things without breaking them. They have brands like Ray-Ban, Prada and Balenciaga. I just stole those names off of their Facebook page. I haven't even heard of Balenciaga. If you go over there right now and use the coupon code above, you get 30% off and FREE shipping.
Looking for more Clearly Contacts Coupons? We've got them all here.