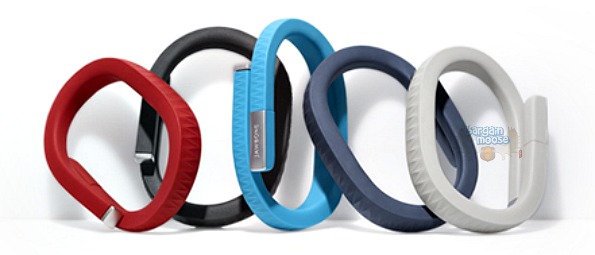 Chapters Canada has a great electronics deal on right now that will save you $40.  This week only, get the Jawbone Up for just $89.
The regular prices of these bands are $129 for every size and they are all on sale for just $89 which is 31% off the regular price.
If you have not heard of these bands, they are pretty spectacular.  They are a wristband + iOS/Android app that tracks how you sleep, move and eat. It is a great way to get to know yourself better, make smarter choices and feel your best.
They are designed to be worn 24 hours a day, seven days a week and they have up to ten days of battery life which is pretty awesome.  You can log what you eat and drink, and track all of the nutritional info as well. It has an alarm on it to set, and you can set idle alerts to remind you to move and stay active. It is a handy little device to help with your weight loss and fitness goals.
They come in small, medium and large and the measurements are posted on the Chapters website when you go to order it.  They also come in a variety of colours such as red, black, blue and grey.
I did a little price comparisons and found Jawbone Up at a few different places.  The first place I looked was Sportchek Canada.  They had them raging from $139.99 up to $159.99 depending on which size you wanted to purchase. I also found them at Amazon Canada ranging from $89.99 going all the way up to $159.99. Again, it would depend on which size you wanted to purchase and they had a limited quantity of the smaller ones.
Lastly, I found them at Best Buy Canada for either $89.99 or $159.99 depending on the size. Chapters Canada was the lowest price and the only store that had the same price for every single size of band.
All of these bands will get free shipping because they are over the $25 minimum which is a nice little bonus as well.
(Expiry: 4th August 21014)