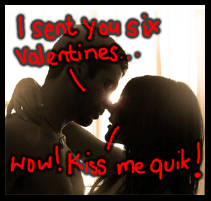 It's coming ever closer… the dreaded holiday of lovers, Valentine's Day! As February 14th creeps up on us, ladies are racking their brains as to what romantic and original Valentines day gifts they can come up with this year… men are hoping that edible underwear would be a good idea. Again.
Here's an easy way to solve one of the little problems, regarding a Valentines card. Scrapbooksetc.com are giving away 6 free personalized Valentine cards, when you use the coupon code "valentine" at the checkout. They're also offering free shipping, which is really sweet!!
Scrapbooks Etc is actually a US based website, but they ship worldwide. I tested it out with an Ontario address, and it seems to work well. Free cards and free shipping!!
Apparently, the origins of Valentines Day are shrouded in the mists of time, with at least 3 different saints who are possibly St Valentine?! Each and every one of them were martyred too. Possibly Death by Chocolate?
If my partner happens to read this, I really don't want choccies as Valentine's Day gifts. Again. You know I don't particularly like them. I wouldn't mind underwear, but the stuff you buy me never seems to fit very well. Lingerie, I guess I could live with. Maybe you could do something romantic with those thousands of digital photos we have collected over the years? Perhaps a hand-made scrapbook, or a professionally made photobook from Snapfish or something, as Valentines gifts? Sound too difficult!?
Thank for the pic aknacer.