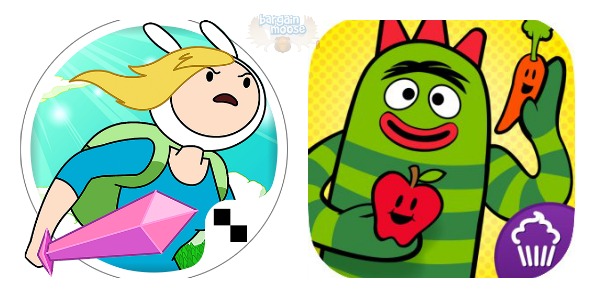 Today and tomorrow only, score 14 free android only apps at Amazon Canada for your children and the entire family.
All these apps you regularly have to pay for, so this is a nice little offer from Amazon Canada. Most are only worth a dollar or two each, but free is king! Download all 14 apps or choose the ones that fit with your family and lifestyle most.
If I added the bundle up correctly, then you are getting $24.09 worth of free apps for you and your family.
The most appealing title in the entire group is Fiona Fights, an Adventure Time game where you battle as Fionna. You battle enemies and can use power ups that make you super big or you can call in backup like Marshall Lee. Perform invincible power attacks with Lady Rainicorn or Lord Monochromicorn. The game looks like a fun game for kids and adults alike. I know many adults who worship Adventure Time and would enjoy playing a game like this.
This reviewer just loves the game:
I love love love this game! I'm a big geek but this makes me feel MATHEMATICAL!!! I love that u can upgrade all the swords and u can play w/ cake and marchell!!!! It's so fun!!!
There are several productivity apps in the offer as well. The healthy Habit Tracker sounds like a good habit-reinforcing app for kids and adults alike. We all know how hard it is to break a bad habit and make a new good habit. This chart tracks your habits in a daily, weekly, or monthly view format. As this reviewer says:
Goals that are written down ARE goals that you stick to. This app is great for helping me remember to do those small but very important things that I sometimes forget.
I just love deals like this! Especially when you get really cool games and other useful apps free. Enjoy dear Moosers and let me know what you pick up!
(Expiry: 18th October 2014)