Canadian Coupons: Motrin Coupon For $5 Discount!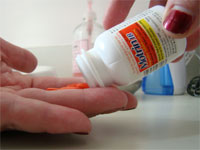 These little grocery coupons can be handy to save you a bit on your shopping. This is a $5 coupon for discount on any Motrin product.
Just choose your province, and it will show you the coupon appropriate to you. The coupons expire on the 28th of February 2010! I suggest printing out one or two, and keeping them until you see Motrin on special offer. Use the coupon when the product is on special offer to get yourself a mega deal!
Thanks vmiramontes!