Canadian Coupons: $2.50 Off Any Stayfree Product!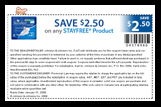 This is a great printable coupon from Living Well Canada. For a $2.50 discount off any StayFree sanitary products, just print and present the free coupon at your local grocery store.
I'll tell ya, feminine hygiene products can be expensive, so every little discount helps! $2.50 is quite substantial. If you are lucky, you might be able to find some Stay Free items on sale at Shoppers (etc) for $1.99, and you could get them for free!! I use this brand all the time, so this is a great discount for me. :)
Expires 31st January 2009!