Canadian Cartel: Demon Armour at Member Exclusive Prices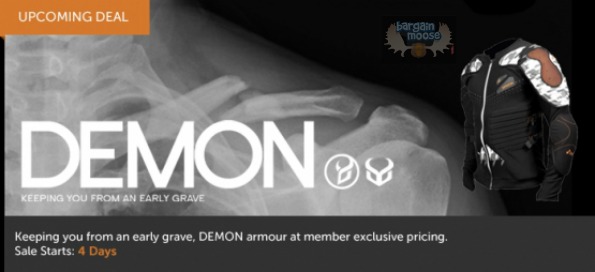 Canadian Cartel has Demon Armour on sale at member exclusive pricing.  Demon gear states, "keeping you from an early grave", sporting some of the best value protective gear and accessories available.
These Demon Wmm Flex-Force Short Pro Retro were $70 and are now just $35.  They are specifically designed for a woman's protection without giving that bulky feeling.  The shorts are padded for thighs, hips, tailbone and buttocks with breathable material.
This Demon Flex-Force Pro Top Black is rather gnarly looking and it was $130, now selling for $65.  This is designed as protection for extreme sports with shock absorbing rib protection, memory foam for shoulders, collarbone, elbows, spine and ribs and adjustable torso straps.
There is also this Demon Hip Belt X D30 black designed for people who want protection for tailbone and/or hips without the protective shorts.  This was $70 and is now $35.  You just simply secure the elastic strap around your waist and place the pads where you need them.
Some other items available are these Demon Knee Guard Soft Cap Pro black that were $45 and are now $22.50, as well as these Demon Wrist Guards black that were $30 and are now $15.
I am not personally into any extreme sports, although I have witnessed my sons and their friends attempting many daring things and protective gear should definitely be used in any sport.
Be sure to visit our Canadian Cartel coupon page for our exclusive coupon code giving you an extra $5 off your online order.
Shipping: Free on orders over $75
(Expiry: 31st January 2013)