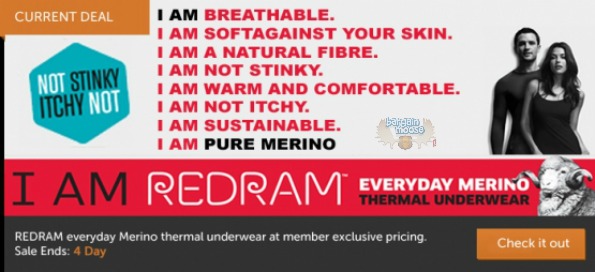 Canadian Cartel has RedRam everyday Merino thermal underwear on sale for 50% off regular prices.  There are limited quantities and sizes available in some items.
I don't think I've ever seen thermal underwear that looked so sexy and they are made from Merino, which is environmentally friendly and better for your body, allowing skin to breathe easier and stopping any body odour.
This Women's Redram LS Crewe Lobster that was $70 and is now $35, is not flashy or frilly, but still quite sexy.  I guess it's the fit and simplicity as well as the gorgeous colour.  There is also the Women's Redram LS Scoop Lobster that was also $70 and is now $35.  This is almost the same except the neck of course being a lower scoop.
Here is the Women's Redram SS Lobster that has all the same qualities, but of course short sleeves instead of long.  This was $60 and is now only $29.  Now for the sexiest piece, this Women's Redram Cami Black that was $50 and is now $25, will not only keep you warm, snug and body odour free, but it looks great too.
There are also these cute little Women's Redram Boy Shorts Black that were $35 and are now only $17.50.  These are boy short style with sexy side panelling and also designed for warmth and comfort.
Now the guys pretty much have the same options available to them, like these Men's Redram SS Charcoal that was $60 and is now $29, or the Men's Redram Leggings Charcoal that were $70 and are now $35.
Be sure to visit our Canadian Cartel coupon page for the exclusive promo code giving you a $5 discount on any online order.
Shipping: Free for orders over $75, otherwise $10.95
(Expiry: 12th February 2013)