Buy 1 Get 1 Free - Petro Canada Printable Coupon – Free Slushie!
This is a printable coupon for use in store @ Petro-Canada. If you buy a "Cool Stop" frozen beverage (also known as a slushie) you will receive a second one for free.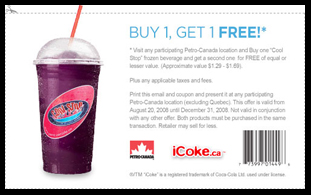 I dare you to get the 2 slushies and drink them as fast as you can! Mega-brain freeze! That reminds me – the last time I drank a slushie, I had a conversation with my friend about why we get brain freeze – it's a pretty weird ailment. I'm off to see what google says about it.
I found some interesting synonyms on Wiki! Shakeache, frigid face, freezie, Frozen Brain Syndrome, cold-stimulus headache, or its given scientific name sphenopalatine ganglioneuralgia!!! What a mouthful!
Printable coupons are great!! Whenever I see one for an item that I usually buy, I print it out right away. I keep them in my purse until I find a use for it. Hey presto – freebies and discounts ensue!!
- Anna