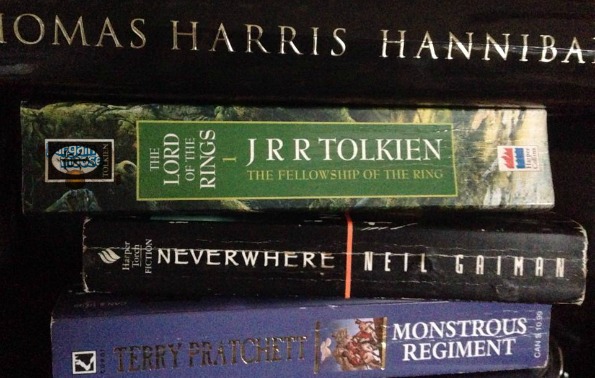 Claim your very own unique coupon code for 15% off at Book Outlet Canada. Just fill out your name and email address through the link below to receive your unique promo code.
I requested my coupon and it arrived immediately. Each code is unique so I cannot just do it one time and then supply the coupon to all of you. I was pleased that the code arrived so fast. I forwarded it on to my husband as I really shouldn't be purchasing anymore books. The picture above is of the books I just purchased this weekend from a local used book sale.
My husband is currently reading through a legendary series - Wheel of Time by Robert Jordan. He is on book four and has up to book six in the series. These are mammoth books to read and I am surprised how quickly he is going through them. I might use the coupon code on a couple more books in the series for him. I found The Path of Daggers (Wheel of Time, Bk. 8) in scratch and dent for $3.99. After coupon, it comes down to $3.32. I could also buy him A Crown of Swords (Wheel of Time, Bk. 7) for $5.09 after coupon (was $5.99). Then he would have the next two books in the series.
As you can see from above, my Terry Pratchett obsession continues. If you want to jump on the Pratchett bandwagon, I suggest picking up a copy of Reaper Man for just $3.32 after coupon (was $3.99) and Snuff. Snuff is a new one for me but it sounds fantastic! Sort of like a murder mystery set on Discworld, which is right up my alley. The hardcover of Snuff is $6.99 and comes down to $5.94 after coupon.
I was actually pretty shocked to see Gaiman's The Ocean at the End of the Lane and Chu's Day on Book Outlet. Both of these books are still incredibly popular. Chu's Day is really great fir kids going to school for the first time whereas The Ocean is best for adults. I want both. Ocean in hardcover will cost me $6.79 (was $7.99) and Chu in hardcover will cost $5.94 (was $6.99).
Shipping is just $3.99 and $0.75 cents per item. That is reasonable when you consider how heavy books are and how much shipping has gone up. I shipped just a shirt to Saskatchewan yesterday and it cost me $12!
(Expiry: 31st October 2014)