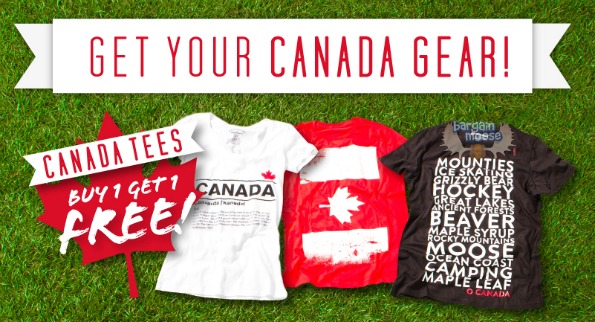 Buy one, get one free on all Canada tees at Bluenotes. If you order today you might have a chance of getting it by the weekend. You can't do Canada Day without a cool Canada tee to show your pride.
Bluenotes has some more original Canadian shirts, rather than just the old flag on top of "Canada". These are great tees to wear anytime, especially on a trip South.
I love this Trust Me I'm Canadian tee. You'll get all the girls with this one: $10.
The Origin of Canada tee is very informative and could make you the talk of the party: $10.
Let's not leave the girls out here. Everyone Loves a Canadian Girl is very fitting and oh so true! $10.
Canadian Love might be a bit stereotypical, but hey, everyone loves a good stereotype: $10.
Buy two t-shirts and you'll spend only $10. That's pretty sweet, eh!
Get free shipping on orders over $100.
(Expiry: Unknown)