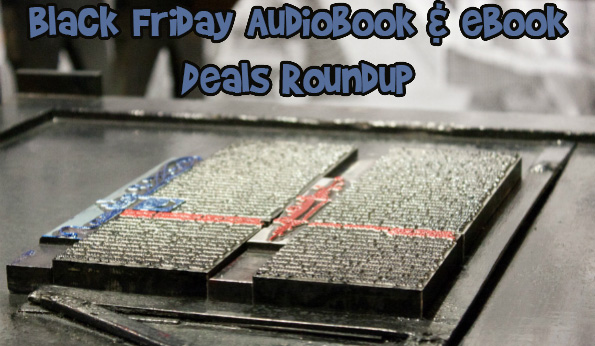 There are tons of great Black Friday deals out there for people who still read with their eye holes like suckers, and for those of us who have professionals read books to us. So, without much further ado, let's get to the deals!
Audible.com
There are over 400 books available on Audible.com for only $4.95. There is stuff in every genre, from Sci-Fi and Fantasy to nonfiction and Romance (filth, just filth) and everything in between. Not sure what to get? Check the Editors' Choice.
If you aren't a member then
Once you're a member, sign in and
Downpour
Downpour has over 1000 books at 75% off. No membership here, kids: just buy and download. If you can't figure something out with 1000 books, you just shouldn't be reading.
Audiobooks.com
Audiobooks.com (what a sweet domain name!) are a membership-only service, so you can't buy a-la-carte like Audible or Downpour. That being said, they don't have any book sales, but they do have a deal on gift memberships which is a great idea. You can get 30% off of three months, or 40% off of one year.
BooksFree.com
This is like Netflix's old DVD service and a library totally made out. Basically, you can get paperback books, audiobook CDs and MP3s, or a combo. You can get monthly plans or rent them a-la-carte. I feel like the 50% off memberships deal they have on the front page isn't a Black Friday deal, and it's only for the first month, so there you go. The one that is a holiday deal for sure is the 25% off gift memberships. Get paperback, audiobooks, one month, three months, two books at a time, one, five, whatever you want. Mix and match with this coupon, kids.
Click here to buy a gift membership @ BooksFree.com now
Coupon Code: GIFT25
Discount: 25% off Gift Memberships
Expiry: Unknown
Kobo
Kobo has picked out a bunch of books that you can get for 50% off, if you use this coupon. Have at it!
Click here to shop the Black Friday deal @ KoboBooks.com now
Coupon Code: BLACKFRIDAYFIFTY
Discount: 50% off select books
Expiry: 1st December 2013
Sony Reader Store
Get 40% off your next ebook. Nothing difficult here!
Click here to get 40% of your next eBook @ eBooks.Sony.com now
Coupon Code: 40NOV13
Discount: 40% off your next eBook
Expiry: 30th November 2013
That's your Black Friday eBook and Audiobook deals! If they mentioned when the deal expires, it's noted in the write-up.
(Image Credit: Milestoned)