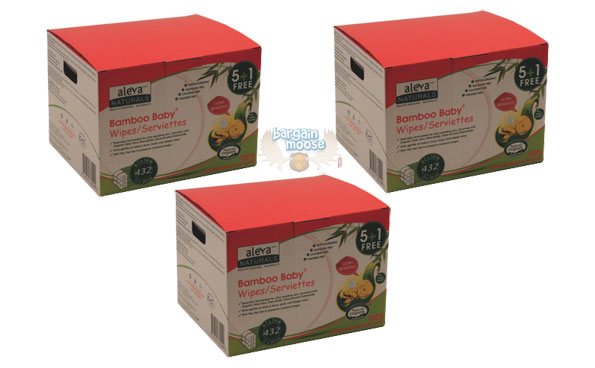 Here's a deal you shouldn't delay in taking advantage of: Best Buy Canada has a 432 pack of Aleva Naturals bamboo baby sensitive wipes on sale for just $19.99 (reg. $10). Plus, if you sign up to Best Buy's VIVA program, then you can save $15 on your first order over $50 and pay just $14.99 per pack.
Since I currently have a lovely bun baking in the oven (wink, wink), I'm actually considering ordering a couple of packs of these wipes because if you factor in the VIVA sign-up discount and you get three packs of the wipes in order to reach the $50 minimum, which comes up to $59.97, you can then further reduce the order by $15  for a total of just $44.97.
At that bottom-line price, it means that you would be getting each pack for just $14.99 each, which is actually a pretty awesome deal if you ask me, especially since you can be rest assured in knowing that the wipes are 100% biodegradable, are unbleached and are made from Bamboo Kun, which is a natural anti-bacterial element.
To give you an idea in terms of price, a pack of just 216 of these same wipes is actually $14.99 at Well.ca and Amazon.ca has the same count box as Best Buy's deal (432) at a reduced price of $24.99 (reg. $29.99).
Here's what one Amazon reviewer had to say about the wipes as well:
I purchase this item as my baby has very sensitive skin. The wipes clean well and are very gentle for the skin (I use them only when I don't have access to water), but I have to say I find the wipes somewhat difficult to pull out of the package... They also have a weird seaweed like smell, unlike the regular unscented Aleva wipe (purple package).
Although the deal on these wipes expires soon, keep in mind that they could go out of stock at any moment. Shipping is also free at Best Buy on all orders over $20.
Have you ever tried Aleva's Naturals bamboo baby sensitive wipes? What did you think?
(Expiry: 20th February 2014)