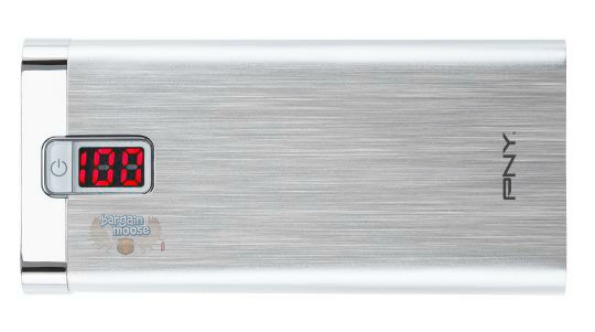 Best Buy Canada has a sweet deal on this PNY 2600 mAh Portable Charger. Originally $39.99, the external battery is now on sale for $21.99. However, when you add it to your cart an extra 25% comes off the last price so you will pick up this sweet little device for only $16.49.
This baby will carry one full recharge for most smartphones. It is a small little stick so you can stuff it in your purse or backpack for those days when suddenly your battery is at 0% and your phone just shut itself off. It includes a 20" micro USB cable to both charge the PowerPack and to charge your micro USB devices on the PowerPack. However, if you are running an Apple phone, you can just use your regular Apple cable to connect your phone to the charger.
Recharging the PowerPack is simple: just plug it into any USB port or even one of those USB to outlet converters. A digital display on the portable charger displays a numerical amount of remaining power in the PowerPack. The device comes charged and ready to use! This is such an amazing deal that there are limited quantities remaining.
If you miss this one, you will seriously want to pick up one of the other PNY portable chargers on sale. The PNY PowerPack 5200 mAh Portable Chargerwas $59.99 and is now on sale for $36.99. After you add it to your cart, it comes down to a mere $27.74. This battery pack will give you around two full charges for a standard smart phone.
If you need some serious power or want to charge a tablet, then pick up the PNY PowerPack 7800 mAh Portable Charger that was $79.99 and is on sale for $51.99. After you add it to your cart, it comes down to just $38.99. This pack has enough juice to charge up most tablets once or an average smartphone three times.
I also suggest checking out this NuPower Stix 2800mAh Battery Bank that was $24.99 and comes down to just $11.24 in your cart. It is also a fantastic deal.
I am a HUGE fan of external battery power for electronics. I cart around a portable charger for my iPhone because Apple makes crappy batteries (at least for the iPhone 5). I love the smaller stick for carrying in my purse and I have a larger charger for traveling. They are on my list of devices I could not live without.
Quantities are very limited! Receive free shipping on orders of $20 or more.
(Expiry: 3rd July 2014)