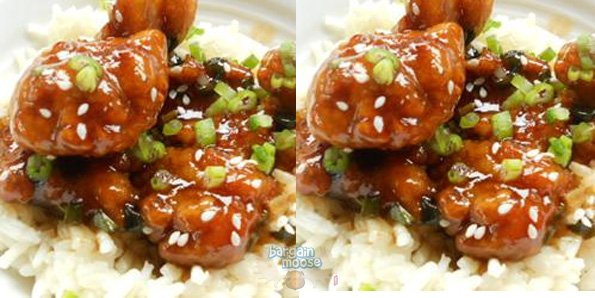 *Bumping this post from January as the price is now another $20 cheaper! Get it before it sells out Moosers!*
Mmmmm general tao... why go to a restaurant when you can make your own? But you're going to need a good knife and if you don't already have one, then I found a great deal on the Cuisinart 15-pc knife block set at Best Buy. Originally priced at $149.99, you can now save $60 $80 and get it for just $89.99 $69.99.
Using a picture of delicious-looking General Tao when talking about a knife block set may seem like an odd choice but fact of the matter is that you need a good knife when handling meat. I'm not the one who handle the deboning and slicing chore or meat handling in my household, but every time my hubby does it, he makes sure to sharpen his knife beforehand!
The Cuisinart 15-pc knife block set comes with:
8" chef's knife
8" bread knife
5.5" serrated utility knife
5" Santoku knife
3.5" pairing knife
Six 4.5" steak knives
Sharpening steel
Shears (scissors)
Knife block
Just writing about this knife block set is making me want to get it for myself because the blade is made from high-carbon stainless steel and the handle is ergonomically designed. My hubby is a leftie, while I'm a rightie, so it would definitely make things easier for him.
Personally, I would ditch the knife block, however. I have heard it being mentioned numerous times on television daytime shows like The Doctors and Dr. Oz that these are the perfect habitat for bacteria. Perhaps it would be okay to use at first but it should definitely be discontinued after a couple of months.
Price comparing, I found this same knife block set retailing for its full price of $189.99 at Sears.
To get back to the topic of General Tao, if you have never made it yourself, it's super easy and I definitely recommend General Tsao's chicken recipe available on All Recipes. If you like cooking completely from scratch, then it's the perfect recipe to follow or you could just do what I do and buy a bottle of General Tao sauce. Once your chicken is cooked, you simply douse it in the sauce and voila -- restaurant quality General Tao! :)
Shipping Best ships orders over $25 for free, you're sure to get this knife block set shipped to you at no extra cost.
(Image Credit: All Recipes)
(Expiry: 29th January 2015 4th May 2015)