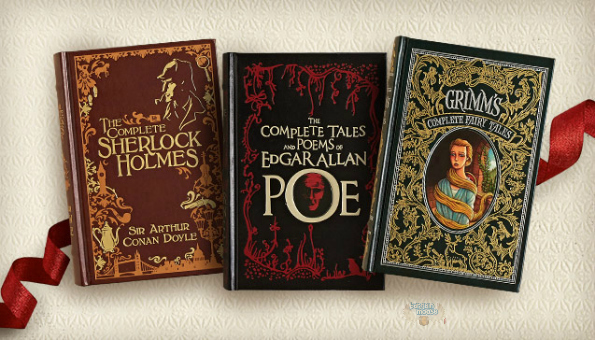 Canadians have a deep love for U.S. stores that we don't have in Canada. Although, it seems when these stores make it to Canada, they don't make it here. So, they cross the borders or order online to a P.O. Box just over the border. You really don't have to do that, as many of these stores will ship right to your house and the duties are not always as bad as you think they might be! They usually have items that you can't get in Canada, which is why you decide to hop that border line and get them. If Barnes and Noble is one of those stores you've dreamed of shopping at, we've got a fantastic exclusive coupon for you for $5 off any $50 order.
Click here to shop @ Barnes & Noble (US) now
Coupon Code: BNBMOOSE6
Discount: $50 off $50
Expiry: 17th June 2015
Personally, I love Barnes & Noble for one thing: their Collectible Editions Series. These are classic and 'new' classic books that have been outfitted with gorgeous covers and gilded pages! Gilding is when they colour all the edges of the paper so, when a book is closed, the paper section looks silver or gold. Gilding used to be done with real silver and gold (long long ago). It looks stunning. These books also come with a little built-in satin bookmark: so classic.
Right now, Barnes & Noble are offering a buy one get one 50% off deal on all their collectible editions. This stacks with the $5 off $50 coupon codeabove. I added four of these collectible books to my cart for a total of $80, which came down to $60 with the 50% off two of them. Then the $5 off $50 coupon applied, and my entire order came down to $55 plus shipping.

The estimated shipping of $13.95 was reasonable for four heavy hardcover books. Note: you must fill out billing information before applying coupon.

I highly recommend these books: they are worth their regular price and more. I own both The Complete Sherlock Holmes and The Complete Tales and Poems of Edgar Allan Poe, which retail for $20 each. The hardcovers on each are a tribute to the content found within. Sherlock Holmes is gilded in gold and Poe is gilded in silver. I want to purchase Dune for a friend of mine who loves the series. He has the entire series already and all the movies but I think this is a really gorgeous copy of the book. There are also some awesome fable and fairy-tale books to buy!
All prices are in USD.