Bargainmoose Contest: Win a $250 gift card from Zazzle.ca! (EXPIRED)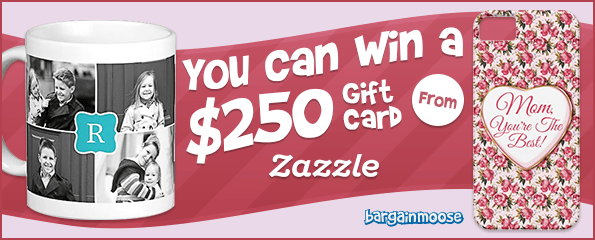 *** Expired, winner added soon ***
Zazzle.ca is a place to get customizable gifts like mugs, t-shirts, cellphone cases, and some more original gifts like clocks, plates, and lamps. If you enjoy being creative and sporting original stuff, you will have fun on this site and will want to win the $250 gift card we're drawing this week!
There are tons of custom print shops out there, but here's two things that make Zazzle a little more interesting than the typical custom shop. First, if you're looking for originality but are lacking the time or skills to design your own t-shirt/mug/clock etc., you can always browse and purchase items customized by other Zazzle users in the Shop section. Secondly, Zazzle allows you to customize items from popular brands like Disney, DC Comics, National Geographic and more. That means you can get an iPhone cover with gorgeous National Geographic copyrighted imagery, like this Two African lion cubs cover ($59.95) and add a personal touch through a caption or by blending in a personal photo. Or, seeing as Mother's Day is coming up, you can use some Hallmark Mother's Day images to create some custom gifts.
Want to snatch up a $250 gift card to get some cool gifts for a loved one, for yourself, or BOTH? Here's how to enter:
Comment below and list a word that starts with a "Z" but is not Zebra or Zoo!
Get bonus contest entries!
Leave a link to this contest on Twitter, ensure you include @bargainmoose.
Post a link to this contest on your wall, make sure you like Bargainmoose.
Pin this contest on your Pinterest & follow us there.
One last thing! In case you don't win this contest, you'll be interested to know that we have a 15% off exclusive coupon code active until next month. You can find this offer on the Zazzle coupon code page.
Rules:
Canadian entrants only
One entry per household
Ends 26th April 2014
Rules subject to change at admin's discretion