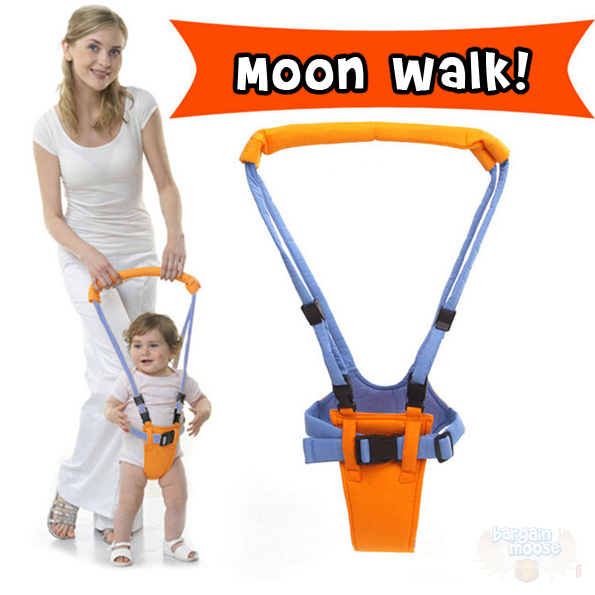 Have you ever heard of Aliexpress.com? No!? Well, they're one of the biggest retail websites in the ENTIRE world – with a global rank of 34 on Alexa. They're kind of similar to Amazon in that they have a marketplace style outlet where individual retailers offer their items for sale. I spotted a great little item and while I was googling, I found a super price including free international shipping on Aliexpress. It's this Baby Harness/Bouncer/Walker, and you can grab it just now for only $4.66!!
The actual title of the item is the "New 2015 Baby Toddler Harness Bouncer Jumper Help Learn to Moon Walk Walker Assistant" – they're trying to fit a heck of a lot of keywords in there, but it shows you exactly the diversity of this particular item. The main feature is that it is a baby walker, which you can use to support your toddler as they learn to walk.
The harness is designed for children of between the ages of 6 months and 14 months, supposedly to help them learn to walk.

The description on Aliexpress doesn't have perfect English and some of the features are a little funny:
Keep the child away from flammable substances
Well, we know that!!?
If you're concerned in any way about this company not being Canadian and shipping coming from outside Canada… well, they're a huge retailer, and this is one of the guarantees on that seller's page:
We promise you a FULL REFUND including original shipping if you are only 99.99% satisfied.
Just note that it is likely that shipping will be a bit slow on this baby walker/harness. So order it now then get a nice surprise when it arrives.
There are a few sellers offering similar ones on Amazon.ca such as here for example, they're also from international sellers but they're a few bucks more than the model from Aliexpress. The price on the walker from Aliexpress is excellent, considering free shipping!

Do you have a young child who's just about to learn to walk? For me personally, it was never a problem with my babies as I don't have a bad back. If the toddlers wanted to grab hold of my hands while I walked around stooped over, it didn't hurt me at all. My partner on the other hand, was NOT ever able to do this because of his back problems. I can see that a harness like this would have been invaluable, even if it was only in use for a couple of months.
(Expires: 7th August 2015)