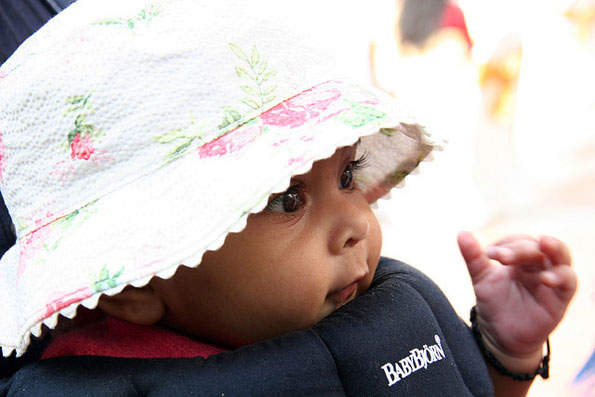 Looking for a baby carrier? The BabyBjorn Original baby carrier is now $50 off at Babies R Us at $79.99 (reg. $129.99), but you can use the Toys R Us coupon code: Bjorn10 to save an extra $10 and get it for just $69.97.
Although I don't have this specific carrier, I do have a similar one, along with the Baby K'Tan sling. Personally, I prefer the sling, but my hubby uses the carrier on a daily basis and I must tell you that not only does he like using it, but my little one loves being inside of it as well. She will go from crying like there is no tomorrow to all of a sudden looking around at the world in amazement as soon as she is placed inside.
It might seem like a lot to pay for a carrier but it's one of the highest rated ones and it has plenty of positive reviews like this one:
We purchased a different carrier earlier and it was so complicated to set up and strap to myself. I absolutely love this. Its so easy to strap and put the baby in too. It gave great neck support when my LO couldn't hold his neck up. In addition to using it outdoors, I also use this at home when my little one wants to be carried but I need free hands.
The only con about this carrier is that it doesn't have the best leg support, and it's not recommended to keep the baby in it for an extended period of time. Either way, I doubt any parent would be able to keep their baby in there for all that long with the frequent feedings, diaper changes etc.
Two other Baby Bjorn baby carriers are also available at a discount, which are eligible for the coupon code above, but they're pricier than the original one:
Price comparing this carrier, I found it priced at $129.99 at all of the other major stores. Even better is that no shipping fees will be applied as Toys R Us ships certain items over $25 for free.
(Expiry: 17th July 2014)
(Image Credit: Harsh 1.0)