Austin Hamilton Coupon Code: $10 Off $38!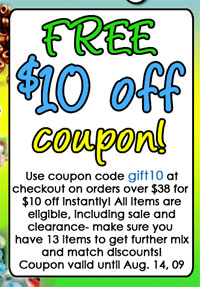 Austin Hamilton is a great little site if you are into arts and crafts. They sell all sorts of beads and jewellery making supplies.
Coupon Code: gift10
Discount: $10 off $38+
Expires: 14th August 2009
The coupon code above will get you a $10 discount on a spend of $38 or more.
Are any of you guys into making your own jewellery? It's something I've always found interesting, but I've never had the time to give it a go. I'd love to wear my own hand made pieces, unique and original.