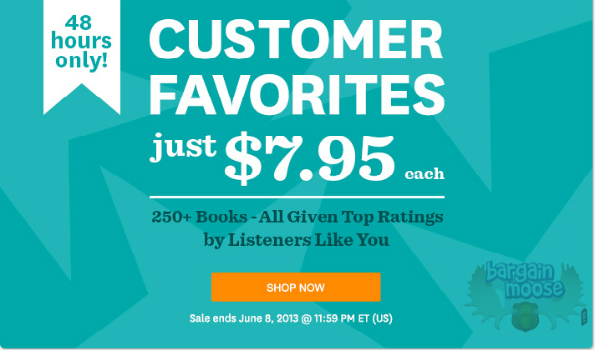 Tired of looking for the best book? Tired of paying for the best books? Then Audible has the deal you want!
First things first, you need to be a member of Audible to get this deal. If you use the link above, you get your first three months for only $7.49/month! That's half off. You will be getting one credit per month which generally equals one book per month. If you don't want to keep your membership you can cancel at any time but I highly suggest (if you don't want to pay monthly) that you get the $9.95/year Light Account so you get access to all the sales, freebies and everyday discounts that Audible has to offer!
But with Audible you are getting two deals. If you click the link above, you can get one of 256 of the highest rated audio books available. You can save as much as $34 on some of these books. Some of them, of course, are only $2 off, but it depends on what you pick. They have everything from romance to sci-fi, fantasy to non-fiction. They even have books produced by Audible in their custom built New York studios!
Are you an Audible or audio book fan? If you aren't, let me know why in the comments below and I will PERSONALLY convince you that you are wrong! Because we all know the best thing to do to the people who pay your salary is to tell them they're wrong.
(Expiry: 8th June 2013)