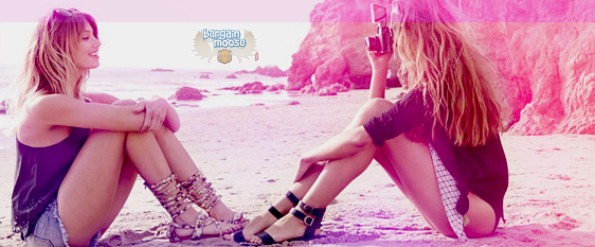 If you are looking to update your summer footwear, Ardene has a really great sandals sale that can help you with that.  They have their sandals on sale at two pairs for just $10 for a limited time only.
With this sale, there are 18 different pairs of sandals to choose from and all of them will be two for just $10 no matter which two pairs you choose.
I love these metallic mule flats that are normally priced at $14.50.  I would also get these black leather mules that are regularly priced at $14.50 as well. Instead of paying the full price of $29 for both pairs, you will pay just $10! That saves you a whopping $19.
I also like these white minimal flip flopsthat are normally $7.50. For my second pair I would get these white floral flats that are normally $14.50.  The full price would be $22 but with this sale, it would be just $10 for both pairs. That is a savings of $12 which is awesome!
If you are looking for another style of sandals, you may want to check out these other Ardene sandal deals.
The straw flip flops that are four for $10 may look like the best deal, but I have to disagree. Just because something is cheaper does not make it a better deal. I have bought a few of these straw flip flops and they really hurt my feet. I would stick to the other deals because there is no use in buying something cheap if you won't wear it.
There are still a lot of styles, variety, sizes and colours in all of the collections of footwear left at these prices.  You could literally grab new shoes for every day of the week and still not pay a lot of money.
The cost of shipping is very reasonable at Ardene. Pay just $2 for the cost of shipping on all orders of $40 or more.
(Expiry: Limited Time Offer)