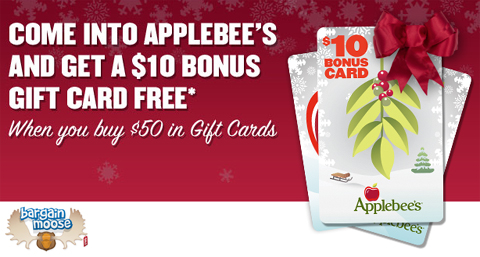 If you frequently visit Applebees Canada for some tasty dishes, then there is a gift card offer that you might like to take advantage of. If you purchase a $50 gift card, you get a bonus $10 gift card for free.
You can buy this offer in-store at your local Applebees. Obviously you don't have to give them away as gifts, you can make use of them yourself. If you regularly eat there anyway, maybe you'd be interested in buying a few $50 gift cards and nabbing a few free ones while you are there.
Some of the terms and conditions:
Limited time offer. Bonus card may not be used on day of purchase. Expires February 28, 2011. At participating Applebee's locations only. Restrictions apply to Bonus Cards and Gift Cards. See card for details. Not available on applebees.com.
I've only eaten at Applebees once or twice, and I wasn't really impressed at all by either the service or the food. I know it's a good family friendly restaurant though, and many families are regular patrons.
(Ends 28th Feburary 2010)