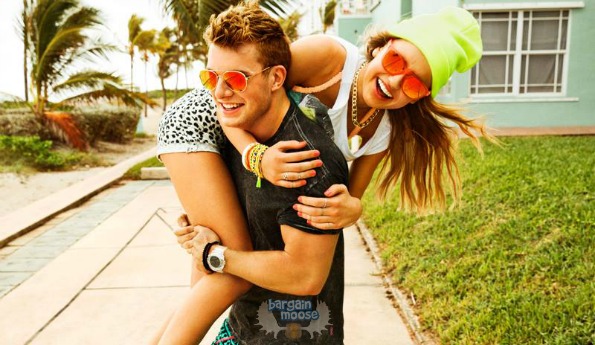 American Eagle Outfitters has a hot deal on right now with an extra 50% off the clearance section once the item hits your cart, plus absolutely free shipping with no minimum. This means you can pick up a really low-priced item from the clearance section and get it shipped to you for free, without having to spend another $70 to cancel out shipping fees.
As I've recently moved, I have a new closet, and with that new closet, I have a new way of storing my clothing. I took the time to organize everything, which included having separate areas for tank tops, t-shirts, long-sleeved shirts and sweaters. I found that I am really lacking in the tank department. I love wearing tank tops in summer as I'm proud of my upper body muscles and I like having tanned shoulders. Plus, when it is hot out, I like to wear as little as possible, while making sure to look good.
A classic racerback boyfriend tank is the perfect everyday top for summer. The ebony colour is also classic enough to wear with almost everything. It has a regular price of $16.98 and on sale for $12.76, but in your cart, you'll find it comes down to $6.39.
I am totally grooving on these longboard plaid shorts for men. I would love to see my husband in them. He wouldn't want to pay close to $50 for shorts at the $47.84 regular price, and even the sale price of $31.92, while better is still a tad high for a sale. So, getting them at $15.97 is really awesome.
Normally, you'd have to pay $50 to get free shipping, although they do often come out with free shipping deals. But what's great about this one is that you can pair it with the extra 50% off clearance, which is higher than I've normally seen for AE. They do ship from the U.S., so fees and duties could be added to your order.
(Expiry: 7th July 2014)