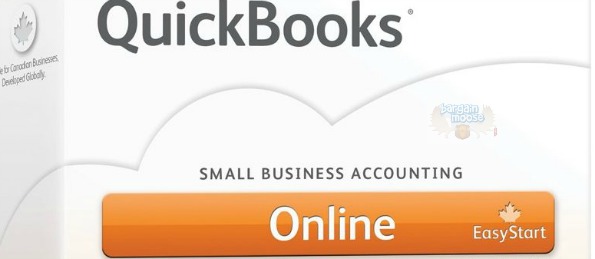 Amazon Canada is offering 80% off the original price of $89.99 for the Intuit Quickbooks Online EasyStart Accounting Software for small businesses. This twelve-month prepaid software package is on sale for just $9.99.
The CD will be shipped out to you; however, this is a web-based accounting program. Thus, an internet connection is required and they recommend high speed. The software is both Mac and PC compatible. The Intuit software comes with one user license plus access for two accountants. You can create and send professional invoices as well as track income, expenses, and profit. You can also monitor your real-time cash flow. The software gives you a 12-month subscription, which works out to less than a dollar a month for accounting software.
Most all the reviewers on Amazon are quite pleased with their purchase. This reviewer from June said:
Invoicing and keeping track of my invoices has never been easier! Quickbooks Online has allowed me to focus on my clients instead of bookkeeping. That being said, I always know where my finances are at with very little effort!
Another reviewer from back in January said they also loved the software with the only downside being it is web based.
This software package is on sale at Staples right now for $29, but Amazon.ca still beats that price by a mile.
I worked as a bookkeeper for a couple months and then swore never to do that again. I don't think it was the actual accounting that bothered me, rather the lack of cooperation from my boss. I need receipts. I cannot balance books without receipts. My mother has done the books for my parents' small business since I can almost remember, and around tax time you avoided disturbing the peace - or rather the thick air of stress that hung over the house. My mother always took the final books to an accountant. That is why I never learned to do my own taxes as when I became old enough to gain employment; my taxes also went to the accountant. Even if you take your taxes to an accountant, I highly recommend teaching your children how to do their own taxes.
This sweet little deal probably will not last for long. Amazon Canada offers free shipping on orders of $25 or more so check your wish list to see if anything else you want is also on sale.
(Expiry: unknown)