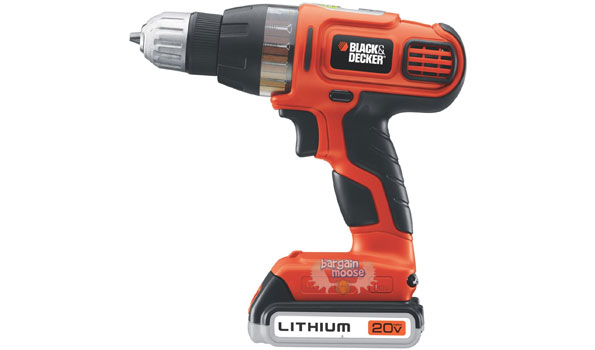 Ready, set, drill away with Amazon's awesome deal: get the Black & Decker SSL20SC 20V drill for just $52.56, which is 47% off its original price of $99.99. Plus, since Amazon typically ships orders over $25 for free, you will get this drill without any additional shipping charges.
When it comes to drills, Black & Decker are definitely one of the most popular ones out there because of their durability and power. This one features a lithium-ion battery, which means that you can charge it once and then leave it lying around anywhere else (or better yet, stowed away in the closet) until the next time you need it without worrying that the battery will lose its charge from not being used. In fact, according to Amazon's description, the battery can hold a charge up to 18 months, which is pretty incredible!
It also has a slew of great reviews like this one:
Received this drill as scheduled. It has good balance, easy to control and very versatile. It has lots of power when needed and the preset torque settings are quite accurate (they are indicated by screw and bit size in pictures, rather than just numbered settings). 20 volts is a nice number for power and the lithium ion battery is small, light and installed easily.
At 20 volts, it's also one of the highest voltages you can get on a drill. I had a look on Home Depot's website and the only other cordless I found for close to the same price as Amazon's deal is the Ryobi 18V, and although it comes with the drill kit, it has less voltage than the Black & Decker one. I have also been told that going with lesser known brands when it comes to cordless drills isn't recommended at all. Although it depends on everyone's preferences, Dewalt tends to be the most favoured because of its power but if you only plan on doing odd fixing jobs around the house here and there, then this Black & Decker drill is sure to fit the bill.
In fact, a friend of mine used his Black & Decker one on a regular basis and after more than ten years, it still continues to serve him well. The only other 20V I found at Home Depot is the Makita cordless compact drill, currently on sale for $169 (reg. $199).
This drill can go back to its original price at any time as no expiry has been given for it, so be sure to take advantage of it ASAP if you're in need of a drill.
(Expiry: Unknown)