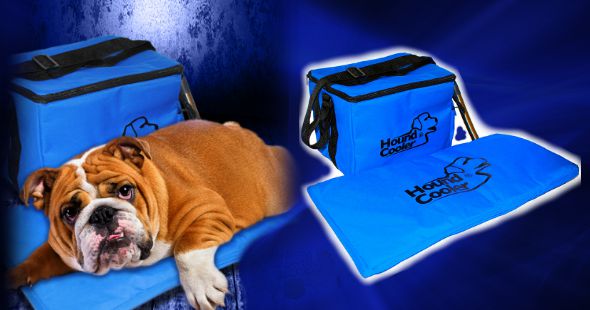 This is an excellent way to keep your dogs cool during this pretty intense heat wave we have been experiencing. The Akoma Dog Products Hound Cooler from Amazon Canada is on for 83% off the regular price, which leaves you paying just $25. Shipping is even included.
I don't expect this Akoma Dog Products Hound Cooler to stay at such a low price for long, so if you want to snag it for just $25 instead of $145.75 then I would do so now. This Akoma product is known to effectively cool down your dog, which is so important during hot weather like this. I have two large dogs who barely come out of my basement when it is too hot for them, so I am sure they would appreciate this neat cooler. I did a quick price comparison to ensure you are getting the best price, so take a look at what this Akoma Dog Products Hound Cooler retails for at other merchants:
$98.99 CAD @ WayFair.com
$99.95 US @ Ebay.com
$99.99 US @ Things4YourDog.com
This Akoma Dog Products Hound Cooler is great to cool down your pup after a walk, hunting, exercise or just during the day really. One of my dogs has long hair and he tries his best to find a cool surface to lay on. I snagged this item especially for him. This is also the only "active" cooling system made pet bed. I took a look through the world wide web for similar products and the other cooling beds just recirculate the air essentially. This Akoma product actually uses the handy cooler that is included with a built-in battery to cool the bed, thus cooling your pet.
Now, keeping your pet cool will be simple. Just fill the cooler with enough ice and water to cover the pump and turn it on. Soon after, the pad will cool down. Your dogs will automatically be drawn to the cool pad, since the dogs first instinctual way of cooling down is by putting their belly on a cool surface. Their second way of cooling is by panting.
Since the Akoma Dog Products Hound Cooler is bang on $25, you will get free shipping from Amazon.ca as well. You really can't beat this price, especially once you consider that even the shipping charges are included.
Moosers, would you use something like this for your canine friend?
(Expiry: Unknown)