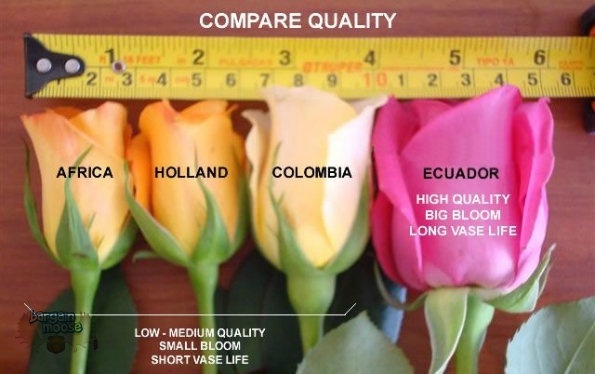 Right now, Bloomex Canada has discounted Two Dozen (24) Ecuadorian Roses from $119.99 down to $29.99. This is a rare offer that will sell out quickly so hop on it and buy your loved one some gorgeous roses!
Now, Ecuadorian roses are superior quality as the rose is bigger and 'fluffier' - the head is more open. As you can see from the image above, they are the best roses to purchase as they will last longer in your vase. Instead of plant food, I find that pop like Gingerale or Sprite keeps flowers alive much longer. Half water and half pop mixture does wonders as the pop is so full of sugar.
Your order will include 24 mixed-colour, long stem roses and a full size card. You can upgrade your rose order to deluxe - 30 stems - or supersize, which has 36 stems. That would be three-dozen roses for just $39.98. Someone buy this for me please!
This is truly an outstanding deal as a simple dozen roses - non Ecuadorian (better quality) - generally costs $35 (2x for two-dozen) and up depending on how good of a sale you can find them on sale. Even our Bargainmoose special on roses - one dozen for $24.99 - at Bloomex cannot beat this Two Dozen Ecuadorian Roses deal. Our exclusive deal is 80% off already but works out to $50 for two-dozen roses instead of $30 for two-dozen roses.
This offer cannot be combined with any coupon codes or other deals. This is an 'email-exclusive offer' that is on as long as stock remains. There was another deal on Ecuadorian Roses that worked out to $19.99 for one-dozen roses. This offer is already sold out, thus I do not think the two-dozen rose deal (which is better) will be available for much longer.
These Ecuadorian Roses are just gorgeous and this is such a lovely deal. While I hate seeing flowers die, I do love receiving flowers and seeing them on the table as I work.
Delivery costs vary, but I found most of the days cost just $14.99 for delivery. Given that you are getting the roses for such a low price, I think the delivery charge is pretty fair. Most florists charge around $15 for delivery so this rate is competitive.
(Expiry: unknown)