Omiyage Canada: 20% off or Surprise Treat Coupon Codes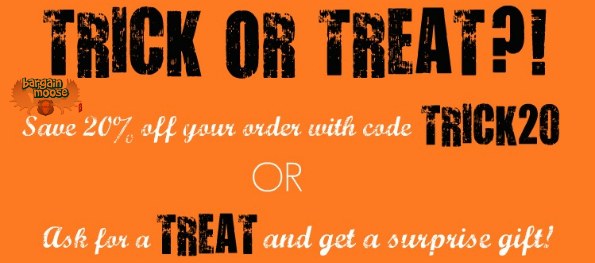 Omiyage has a great promotion for Halloween. You can get their 'TRICK' which is 20% off your total purchase, or get a TREAT which will be 20% of your total purchase worth of extra surprise things! Omiyage is a totally awesome stationery place, I just love these!
I am so.. smitten! This Shinzi Katoh Deco Tape - Cheri & Chignon is only $3.50 and is to die for, it is soooo cute!!! *falls over*
Coupons:
Discount: 20% off your purchase
Coupon Code: TRICK20
Discount: 20% worth of surprise goods - what a treat!
Coupon Code: Leave a note to seller (might want to mention Halloween TREAT)
Expiry: 31st, October 2011
Their stationery sets are also to die for, just sooooo pretty! This one is my favourite: Shinzi Katoh Water the Flowers Letter Set for $9! It might actually make me write letters if I got it. Just so precious! Oh ya, they also have some beautiful Bento boxes!
Shipping is a flat rate of $7.50. However, if your package cost is under $30 and fits into a letter mail they will refund you the difference for the shipping! For example: a 2 Pack of cute Washi Tape will ship for only $2.00!