Well.ca: Select Live Clean Products 25% off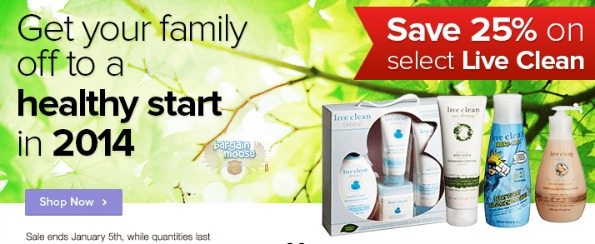 Ring in the new year with some great eco-friendly products and save while buying them.  Well.ca has most of their Live Clean products on sale at 25% off the regular prices right into January 2014.
Both of my kids have very sensitive skin so we have to use green products like these for bath time.  Looking through the list of what they have to offer, I already have a few items on my wish list to try.
Since it is only select products that are discounted right now, you will want to look for the prices in red.  I would say about just over half of them are discounted at 25% off and the discounted price is listed in red for easy shopping.
Additionally, check out the Well.ca page on the coupon forum for our exclusives.  You may be able to use one of them saving you $10 depending on your orders.
You will get free shipping for all orders of $25 or more.
(Expiry: 5th January 2013)