Well.ca: 25% Off Dr. Bronner's Soaps, Balms, Lotions & More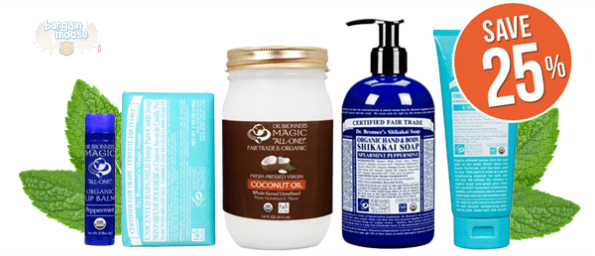 Well.ca is offering 25% off nearly the entire Dr. Bronner's brand! Save money on soaps, balms, lotions, oils, and more.
The last time I saw a good Dr. Bronner's sale, it was 20% off and the sale occurred quite a while ago. While Dr. Bronner's is one of the foremost all natural brands, it is not often discounted on mass.
My partner uses Dr. Bronner's Organic Pure Castile Liquid Soap  (TeaTree) as a body wash and hair soap all-in-one. The tea tree has cut down on random outbreaks of acne and the scent does not linger too long. Using the soap as both a body wash and as a shampoo means he would go through a small bottle quickly. However, we buy the 946 ml soap when it goes on sale, as it is now. Originally $23.99, the Castile Liquid Soap is on sale for $17.99. It is amazing how concentrated this soap is - it will last for ages!
Dr. Bronner's soap is pretty legendary in the natural community... you can even find articles about all the uses for the soap outside the traditional uses. Dr. Bronner's soap works as laundry soap and as a pet shampoo. You can use it for shaving, bubbles in the bathtub, and washing fruits & vegetables.
I do not use Dr. Bronner's soap myself, but I do use another product - for cooking. The Dr. Bronner's Organic White Virgin Coconut Oil is my favourite coconut oil for cooking. It has a mild flavour that surpasses several other coconut oil brands I have tried. I think coconut oil is one of the healthier oils for cooking, but I was never fond of the taste. Now, I do not even notice the taste with this oil. While the container is a bit small, I am willing to pay for Dr. Bronner's quality coconut oil because of the flavour. Originally $16.79, the coconut oil is on sale for $12.59.
I have heard amazing things about the bar-form of Dr. Bronner's soap. The next time I need soap, this Dr. Bronner's Pure Castile Bar Soap  in unscented baby-mild is on my wish list. I tend to use bar soap, as there is no added water so the soap goes farther. With delicate skin, this sounds like a good soap for me. Originally $6.79, the soap is now on sale for $5.09.
Shipping is free on $29 or more.
(Expiry: 19th April 2015)