Weight Watchers: Save 25% on 3-Month Savings Plan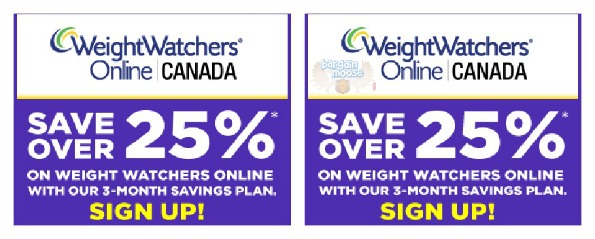 Weight Watchers has a brand new promotion to take advantage of.  They are celebrating the coming winter months with a nice little discount for new members. From now until November 30th, save 25% on Weight Watchers online savings plans.
A 3-month plan would normally cost you $105.80, but when you sign up through the link above, you will pay just $79.  That works out to about $0.89 a day.
Here are some of the things you will get with your plan:
The tools to follow the plan online, at your own pace
Customized sites for men & women to meet their different needs
Over 16,000 food listings, 1,800 delicious recipes and eating out guides
Interactive tools to help you manage daily food choices and activities
Personalized goals based on your height and weight
Snapshots of your progress with our Weight Tracker and Progress Charts
Workouts for all fitness levels and video exercise demos
Your subscription will be automatically renewed at the end of your payment plan at the standard monthly fee (currently $21.95) until you cancel. If you just wish to do just the 3-month plan, make sure you mark on your calendar when you would like to cancel so you will not be charged any additional months.
The Weight Watchers philosophy is as follows:
Helping you make the positive changes required to lose weight
Helping you to make positive behavioral changes in your life
Inspiring you with our belief in your power to succeed
Motivating you every step of the way
This is not just a healthy eating plan but a lifestyle plan.  They encourage you to be more active so that you can achieve your best weight loss success.
Generally, people following the Weight Watchers plan can expect to lose 1-2 pounds per week.  It is the most successful online plan out there.
(Expiry: 30th November 2012)