Wagjag: $25 for $50 towards Mineral Makeup and More from Affera Cosmetics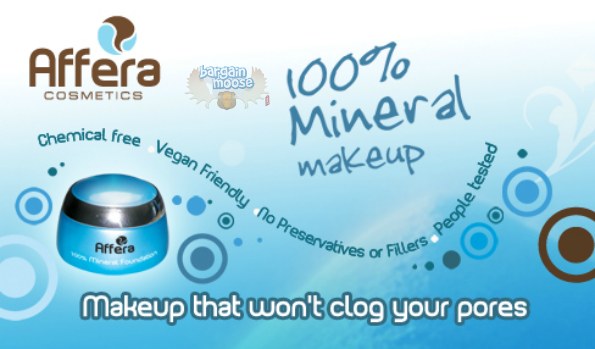 I am so into natural cosmetics right now! They are healthier than putting chemicals with unknown side effects and properties on your skin and there are some great companies out there. Check out this deal at Wagjag: For $25 get $50 worth of Mineral Makeup & More from Affera Cosmetics.
This is a side deal in Edmonton right now, if you have trouble finding it.
These cosmetics are hand made in Burnaby, BC. They are chemical-free, vegan-friendly makeup and contain no preservatives or fillers. They are also allergy-friendly and works on sensitive skin, eczema, rosacea, etc.
Logistics:
Expires May 9, 2012
Valid online only
Unlimited buys
Limit 1 voucher per purchase
Tax and shipping extra
I so want to get this voucher. I have been looking for a new foundation that is healthier for my sensitive skin!
Little over 4 days left to buy this splendid voucher.