Tip: Join First Choice Haircutters For Instant $2 Coupon!
This deal has been around for quite a while as far as I know, but it is worth letting my lovely Bargainmoose readers know about it. If you join the mailing list online @ firstchoice.com, you will immediately receive a free coupon for a $2 discount $1 discount in-store @ your local First Choice Hair Cutters hair salon. When I joined up online, I received the email instantaneously.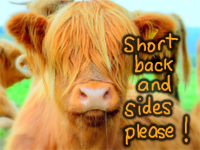 I assume they'll send me further offers in the future, but it's worth joining for the $2 $1 coupon to start with. I've never actually used First Choice for a haircut, so I really don't know how good their prices are – care to share your opinions?
When you join up, they send you out a unique coupon code for your $2 $1 discount, and it's targetted at your local store (which you choose in the signup process). It's only valid for 2 weeks from the date you sign up, so make sure you can use it within that time period.
I don't really like going to the hairdressers very much. I've had a few bad experiences, and it makes me quite wary. After all, this person is in control of styling your hair, a part of you which is visible to the public each and every day of your life. If they mess it up, well, you're the one who has to walk around with the bad hairdo! One thing I do enjoy though is getting my hair washed. At my local hair salon, they have massage chairs which you can relax in while they are washing your hair. And they usually massage the scalp for about 5 minutes too, which really is very relaxing indeed!
If you'd like to find out about more offers you can get straight to your email inbox, click the "email discounts" tag and see what you can sign up to!
Thanks Nicolas Valentin!
(UPDATE - comments now suggest that the value of the free coupon has only dropped to a $1 discount - shame!)