The Body Shop Canada: Boxing Day Sale Today Only Entire Store 3 for $30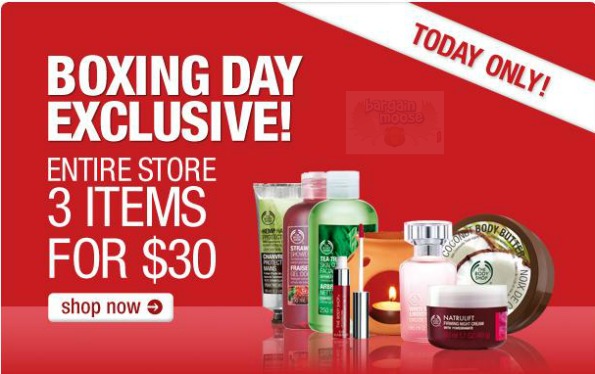 The Body Shop Canada is having a great Boxing Day sale both online and in stores.  The entire store is buy 3 for $30 today only. You can also save up to 70% off selected items.
Certain sales I get excited about and this is one of them.  This is one of my favorites because it's when I stock up on the big ticket items in the store that I love for a fraction of the price. One of my favorite products from The Body Shop Canada is their body butters.  I love their satsuma body butter regular price $18.  If I got 3 of these I would normally spend $54 but with this sale I will save $24!
There are a few exclusions to this deal:
Offer excludes $10 seasonal body butter, 750ml jumbo shower gel, prepackaged gifts, skincare kits and gift cards, memberships, charitable and select items
Make sure to check out their sale section that is up to 70% off .  I found this natural minerals makeup brush on sale for $5 (regular price is $26) What a great deal and it's all natural so good for your skin and the environment!
Check out more deals on our Boxing day dashboard and The Body Shop Boxing Day sale!
(Expiry: 26th December 2011)