The Body Shop Canada: 50% Off Beautifying Oils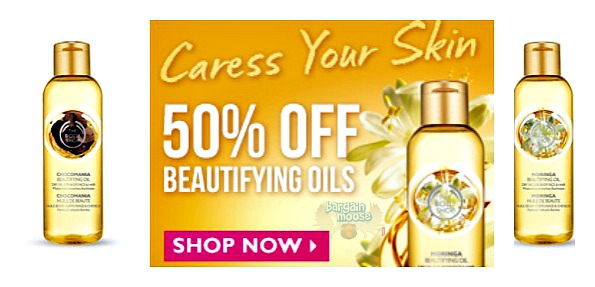 The Body Shop Canada has been having some great deals on lately and here is another one.  Save 50% on beautifying oils for one week only.
There are eleven different beautifying oils to choose from.  All of them were priced at $14 and are now just $7.  I have personally never tried any of these beautifying oils but they have always intrigued me.  I love trying new products but it kills me to pay full price for something that I have never tried before and may not want to buy again.  This is the perfect time (in my mind) to try a new product.
As I was looking through, one of the scents popped out and caught my attention.  The Chocomania Beautifying Oil that was $14 and is now $7 sounds amazing.  I LOVE chocolate and would love to smell like it all day, but that's just me.  I have also heard that wearing and smelling sweet scents all day such as vanilla or chocolate help aid in weight loss because it suppresses your appetite.  Not too sure if that is true or not, but why not smell great even if it isn't true!
As for the cost of shipping, it is free when you spend $75 or more, or pay a $5 fee on orders over $50.
(Expiry: 12th August 2013)