Sweet Baby Dealz Canada: Gaia Natural Skincare Up To 35% Off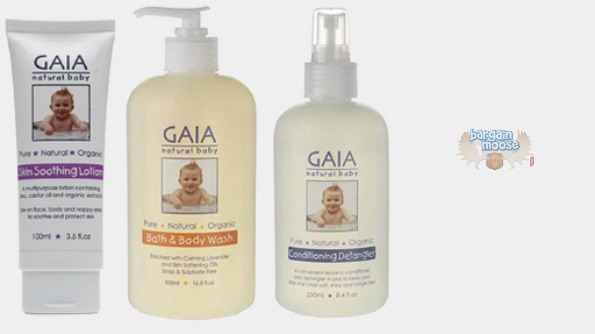 Sweet Baby Dealz has a great deal on Gaia Natural Skincare, with up to 35% off. Now is the time to stock up!
When my kids were little I always used Gaia, because I wanted something completely and truly all-natural (not just something green-washed). Gaia has a sweet smell and does a great job keeping kids clean. I did find the price a hinderance, so this deal really helps.
The Baby Bath & Body Wash is a great all-in-one cleanser for body and scalp, which is great for hairless or short-haired babies and children. Made with essential oils and coconut derived cleansing agents, it is soothing and natural, with no soap, sulphates, artificial fragrance, parabens, propylene glycol or petrochemicals. Regularly $13.99, get it for $9.99.
The Baby Conditioning Detangler is a spray that is great on long, fine or curly hair, for those little ones who hate having their hair brushed. Get it for $9.99, regularly $13.99.
The Baby Massage Oil is also $9.99, regularly $13.99 and is pure bliss for babies and kids alike. Made with pure almond oil plus other essential oils, this is great to spread on baby after a bath. I massaged all of my kids and found they slept much better when I did. Studies also show that babies grow more, the more they are touched.
Check out the other amazing natural items on sale from Gaia at SweetBabyDealz, including the starter kit, which would make a great addition to a baby shower gift.
Shipping depends where you live but to Ontario it was only $5.99.
(Expiry: 28th April 2013)