Shoppers Drug Mart – Get free gift cards when you shop in store this weekend
If you fancy doing a bit of shopping in store @ ShoppersDrugMart this weekend, you can actually nab yourself a few extra bargains. Here's what they are:
If you spend $50 you get a free $10 gift card!!
If you spend $75 you get a free $20 gift card!!
As usual, there are a few exclusions, tobacco, prescriptions, stamps etc (you can find out more about this in store).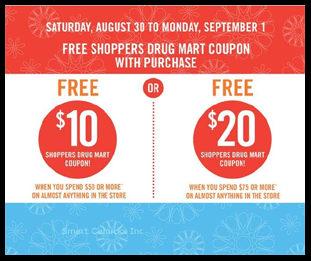 I know I could easily spend $50 (if not $75!) at a Shoppers Drug Mart store! Actually, when I was in last week, I bought a new bottle of perfume… and that kind of cost me quite a bit!
P.S. Expires 1st September 2008!
- Anna