Shoppers Drug Mart $10 Tim Card With $50 Purchase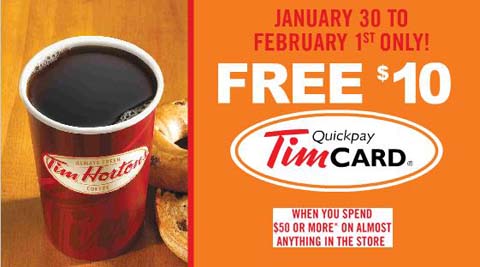 When you spend $50 or more at Shoppers Drug Mart from January 30 to February 1, 2010, you get a $10 Tim Horton's Gift card.
For three days only, when you make a purchase of $50 or more, you will receive a complimentary $10 gift card to Tim Horton's. If you don't visit Tim's often enough, surely someone you know would greatly appreciate the gift (ie. Me).
This is a dream come true for me, Shoppers teaming up with Tim Horton's, beauty products and coffee.