ReFleX Wireless Discount: Exclusive 25% Off ALL Nutricrystal Scales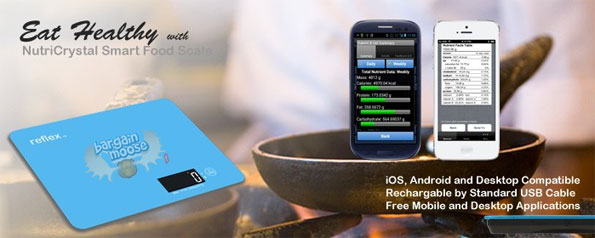 Jump start that long overdue new year's resolution to lose weight with ReFleX Wireless and save 25% off Nutricrystal scales with our incredible Bargainmoose exclusive!
Click here to shop @ ReFleXwireless.com
Coupon code: MOOSE2014
Discount: 25% off Nutricrystal scales
Expiry: 15th February 2014
On top of utilizing Eva's "7 Workouts You Can Do For Free" and Heather's "How To Find Cheap Personal Training" tips, the biggest factor behind the secret to weight loss is nutrition. Simply put, you definitely are what you eat but it also does not mean that starving yourself or sticking to a no carb, no sugar, no anything kind of diet is the way to go.
Without exercising last year, I tracked all of the foods and drinks I consumed with the MyFitnessPal app and I actually managed to lose a couple of much needed pounds! The biggest challenge, however, was figuring out how much I had consumed in grams, which is exactly where ReFleX wireless nutritional scales would have been useful.
Their scales, which come in an assortment of colours (sweet pink, simply purple, easy green, shiny armor, etc.) automatically upload all weighed food into their very own Nutriplus Android app or other similar apps as well as a desktop applications through either Bluetooth or Wi-Fi. Some scales also come with the function to be used with either wireless communication for increased ease. And so, while just the Bluetooth nutritional scales are regularly priced at $69.95, the ones that combine Bluetooth and Wi-Fi capabilities get reduced to a mere $74.96 (reg. $99.95) with the exclusive -- thereby, definitely making them the better choice!
Wireless weight scales are also available at ReFleX Wireless and they act in the same way as the nutritional scales, sending all collected information back to either apps or your computer. If used together, I'm sure these two products work wonders for keeping you feeling accountable as you progress through all weight loss or fitness goals.
Although the AQWave PPG Recorder is also a cool gadget to invest in since it collects your body's medication information, the SleepAngle wireless sleep monitor is the other product that really caught my attention at ReFleX's site. As you sleep, it keeps a record of your positioning, how frequently you move around and it even goes so far as to keep track of all your runs to the bathroom or anywhere else for that matter -- pregnant women beware as your stats may be off the chart (and I write this from experience)!
Shipping is at a flat rate of $5 per order. For more ReFleX Wireless discount codes, be sure to keep an eye on our forums!
Which ReFleX product would you most be interested in getting for yourself?