OPI 9 Piece Spring Avojuice Lotion Set, $18 @ Nail Polish Canada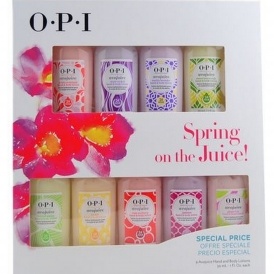 My daughter came home with an OPI Avojuice purse-sized hand and body lotion in a treat bag from a birthday party some time last year. We all loved it so much that we keep purchasing it whenever we run out.
This OPI Avojuice lotion is lightweight, non-greasy and what I am particularly drawn to is that it absorbs almost instantly, leaving your skin feeling soft and silky. It is that good! The size of the lotions this kit is 30 ml, which happens to be the perfect size to keep in your purse or pocket. The entire set sells for only $18.

I love that there are so many different lightly scented choices to choose from in this line. This 9 piece set for spring includes the following scents:
Peony and Poppy
Violet Orchid
Vanilla Lavender
Sweet Lemon Sage
Coconut Melon
Mango
Cran and Berry
Jasmine
Ginger Lily
I love shopping online at Nail Polish Canada. They have always had free shipping if your purchase is over $29, and if not? A flat shipping fee of only $4! When is that last time we saw such a great shipping rate? I would top up your order of the mini lotions with this 250 ml size OPI Avojuice Coconut Melon, for $12. It's such a great summer scent, you will feel refreshed every time you use it. Then your order will be $30 and shipping will be free!

(Deal expiry: Unknown)