Nicorette Canada: $5 Online Coupon When You Visit Facebook.com/SmoberUp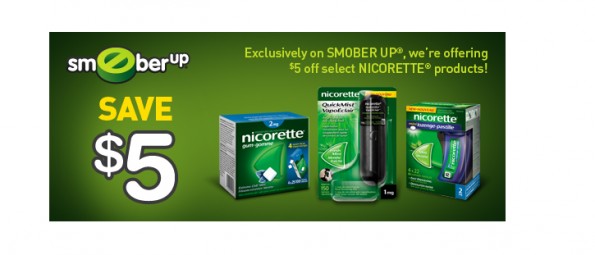 Nicorette is offering a $5 coupon for any of their products. You need to purchase a Nicorette product at participating retail stores and get your unique PIN coupon. You will need your PIN and UPC codes to unlock the savings at their Facebook page. Valid only for Canadian residents, offer is a limited time only while supplies last.
You must be logged in to Facebook. After clicking Like, you will be able to get your coupon. Coupon link takes you to the Smartsource.ca website and prints immediately, so make sure your printer is ready.
For those of you who are considering quitting smoking, I suggest you take advantage of this deal. Any help and support you can get is wonderful. The Nicorette products really do help, believe me, I know.
They have all sorts of products available, just visit Nicorette.ca (coupon link is also available there).
When I tried Nicorette, there was only gum available so look at how far we have come. With all these products available, quitting will be a lot more bearable and utilize any and all support available, trust me it will help.