New Proactiv Skin Care: 30 Day Trial $24.99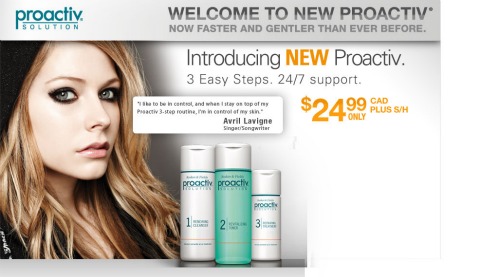 If you have acne and haven't tried Proactiv, for just $24.99 plus shipping and handling from Gunthy Renker, you can try the new Proactiv skin care line (a 30 day supply) including a Renewing Cleanser, Revitalizing Toner, Repairing Treatment, and a bonus Green Tea Moisturizer or Refining Mask as well as a Doctor's Secrets Book.
The new Proactiv line claims to be faster working and more gentle than ever. If you are not familiar with Proactiv, it's a three step system to help you get and keep acne free skin. The basic three step system includes a Renewing Cleanser, Revitalizing Toner and a Repairing Treatment. The key ingredients in these products are benzoyl peroxide and glycolic acid.
When you sign up for the 30 day supply of Proactiv, you will also be agreeing to receive an ongoing order of Proactiv (larger 60 day supply) every 60 days for $49.99 plus $6.99 shipping and handling,which will be billed to the same credit card you provide.
All orders come with a 60 day money back guarantee:
If you're not totally satisfied with the results, simply return the bottles within 60 days, even if they're empty, for a complete refund of the purchase price (less shipping & handling*).

If you return any shipment within 15 days of receipt, your refund will include shipping and handling.
I have used Proactiv on and off over the years and I can tell you that it works! If you have mild, moderate or even severe acne, chances are that this skin care line will work to clear up your acne. Be careful with your clothes and towels though, as benzoyl peroxide will lighten fabric. That is really the only negative side of Proactiv that I experienced. I didn't find it harsh or drying as some people do and definitely noticed a change within 30 days.