Murad Canada: Free Toner With Purchase Of 2 Items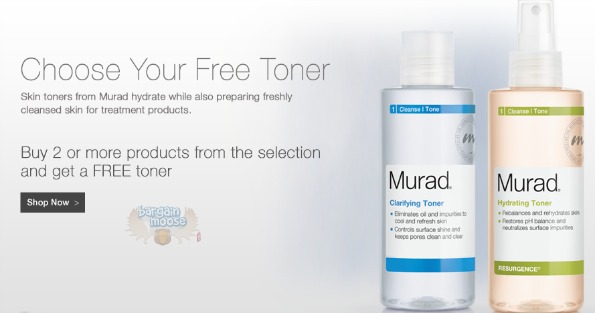 Murad Canada has a pretty great deal happening right now that does not require any type of coupon code to get.  When you purchase two items, you will get a free toner of your choice.
The two items that you will purchase must be from the page on the link above.  Don't worry though, there is quite a variety of items to choose from at different prices for everyone's budget. Additionally, the free toner is a choice from two different toners, and you can choose which one suits your skin better.
The first choice is the Clarifying Toner.  It eliminates oil and impurities to leave your skin feeling very fresh and clean.  It also helps unclog pores leaving them feeling clean.
The second free option is called the Hydrating Toner.  This toner will rehydrate your skin and it will neutralize surface impurities.  It also restores normal pH balance and it softens and soothes skin.
Both of these toners will be the full 6oz size and would normally cost you $27 if you had to buy them.  A $27 free gift is not bad at all!
As a bonus, Murad Canada offers three free samples with every single order.  Once you add your items to your cart, you will get to choose three different samples that will be absolutely free as well.  Right now, they have seven different ones to choose from.  I love getting free samples because they are a great way to try out new products without having to spend the money on them first.
If you would like to save some money on the cost of shipping, we can help you with that.  Use this Murad Canada coupon CLEANSERS to get free shipping along with a free trio of cleansers when you spend just $50 or more on anything.
That means, if you take advantage of everything I have mentioned, you will end up with a free toner, free shipping, the three standard free samples and a free trio of cleansers!  Don't you just love the word FREE!
(Expiry: Unknown)