Lush Canada: Free Shipping with $99+ Min.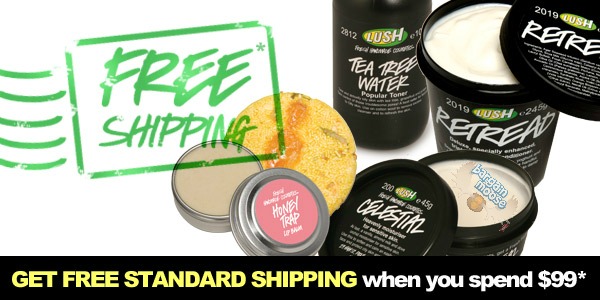 Lush rarely has promotions or sales of any kind (except for their legendary boxing day sale) so this offer is pretty nice if you have been just waiting for something to stock up on your favourite Lush goodies. Lush is offering free shipping with a $99 minimum spend. Regularly you would spend $6 - $10 on shipping depending on the weight. I suggest teaming up with some friends/family to take advantage.
An important notice: Due to increasing ingredient costs Lush will be raising prices on it's products August 1st! This weekend is the last weekend to get Lush Products at their 'old price' before they costs go up.
I think I have tried over 100 things from Lush: in fact I know I have. Between gift baskets and my own special preferences I could be called a true Lushie. If you walked into my bathroom you would notice a Rock Star Lush soap by the tub and the Comforter Bubble Bar, Vanilla in The Mist soap by the sink and a whole load of Lush products in the cupboard. I just ran out of my absolute fav shampoo in the world Big. I am also out of Bath Bombs right now. By my bed is Dream Cream and Fair Trade Foot Lotion.
So if you need any help on deciding on what Lush products are the best: drop me a line! I have tried a whole bunch and might be able to help out. :-)