Flat Iron Experts: 15% Off Coupon Code + $80 Worth Free Gifts With $100 Purchase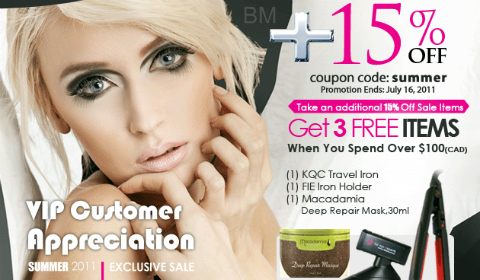 (Expired - possibly more Flat Iron Experts coupon codes here)
This deal even blows my socks off, if only I had budgeted for a hair straightener! A company called Flat Iron Experts Has a triple wammy deal, check this out:
Spend $100, get $80 worth of free gifts
Get 15% off your order with our coupon
free shipping on $50 +
The $80 worth of free gifts includes these 3 things: a KQC Travel Iron, FIE Iron Holder and Macadamia Deep Repair Mask (30ml)!
I added this sweet looking Babyliss Nano Titanium and Ceramic Curved Plate Iron / Deep Curve Styler (1-1/2" inch) - BNTC3556C (was $199.95 | on sale for $119.95) to my cart, then added on the coupon code (below) which reduced it to $101.96. Then I added on the Free gift pack ($80 worth) for free. That is $280 worth of stuff for $101.96 with free shipping! AWESOME DEAL!
Coupon Code: SUMMER
Discount: 15% off
Expires: 16th, July 2011
Make sure to add the free gift pack to your cart if you spend $100+!
Thank you SO much to Mooser Alicia for sending us this deal! She told us:
I bought my flat iron from this website last summer. It's a GREAT site and the extra freebies you get with your order are awesome too!
I agree. Totally agree.
Deals expire the 16th, July 2011.