EthicalDeal: $12 for a $25 Voucher For Lunapads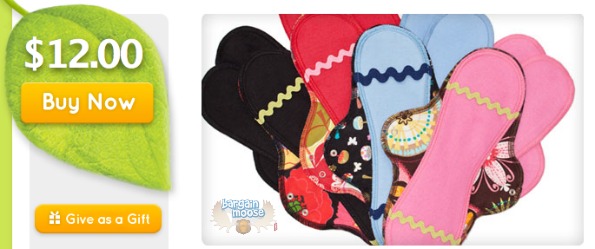 Get 52% off Lunapads, eco-friendly alternatives to disposable pads and tampons. Pay only $12 for a $25 voucher to Lunapads Canada. There are limited quantities available.
Thank you to Mooser Kerry for sharing with us such a nice deal. We indeed do like Lunapads because they are everything a bargain hunting woman needs:
Safe
Reusable
Cost effective
When I calculated out how much I spent on Tampons in a year - roughly $5 a month or $70 a year: I released what a good investment a Diva Cup and some pads were. I would recover the price in approximately a year: and they last up to 5 years! If my pads & cup last for 5 years that is roughly $280 I have saved by changing over to Lunapads. With this voucher, you can save even more.
1 per person. Voucher becomes valid the 15th of May, 2012 and expires 15th, August 2012.
Deal expires: in 6 days or when quantities are sold out.