Estée Lauder Customizable Cosmetic Bag—$105 Value FREE W/$50 Purchase + FREE Ship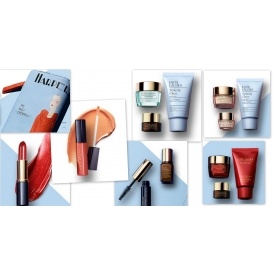 I've mentioned before, there is nothing like a really hot cosmetics or skin care sale, but this is both! Right now, Estée Lauder is offering a free Estée Lauder & Harper's Bazaar Cosmetic Bag Customizable Promo filled with skin care products and cosmetics, with a retail value of over $105, for free when you spend over $50! No special code is required for this promotion but limited quantities are available so you will want to order now before supplies run out. Also, there is free shipping on any order—no minimum!
So, what's in this free promo when you make any $50 purchase? First of all, it's customizable in that you can select one of these three 3-piece travel skin care sets that each consist of a cleanser, a face creme and an eye care product: Age Prevention, Multiple Signs of Aging, or Radiant Health. Even though they are called 'travel sizes', in my experience these are generously sized samples that will last a long time!
Next, you can select if you want a full size Pure Color Lipstick in Nectarine, or a travel size of Pure Color Envy Gloss, in Seductive Honey.
Finally, they include deluxe travel sizes of Advanced Night Repair, Sumptuous Mascara and an exclusive bag inspired by an iconic Harper's Bazaar cover! This is one of the most notable Harper's Bazaar magazine covers and it is one classy cosmetic bag!
What a winning combination of two iconic beauty and fashion brands in this special beauty promo, each having an impressive heritage!
So, what should you purchase (over $50) to receive your free Estée Lauder & Harper's Bazaar Cosmetic Bag Promo with a value of $105? This is my pick:

Instead of purchasing solely a retail size moisturizer, I typically purchase the DayWear Creme SPF 15 in a combined value set such as this Age Prevention 5-piece Set selling for $75 as it is only $12 more than the regular retail price of the DayWear Creme and includes not only a full retail size of the DayWear Creme but 3 other great skin care products and a cosmetics bag! I vouch for the Estée Lauder DayWear Creme SPF 15 as it is lightweight yet moisturizing, providing an excellent base for your foundation. It is also refreshing in the summer because it is lightly scented with a cucumber scent.
Don't forget, shipping is free on all orders. This deal will expire when quantities are gone.