eBeauty Canada: Spend $75 or More & Receive A Gift Card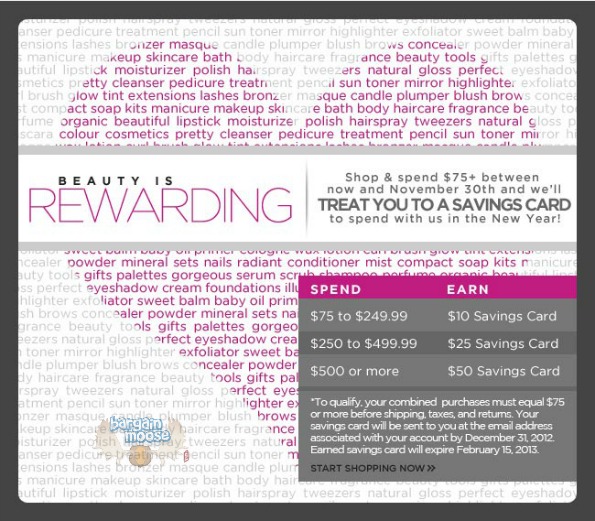 Ebeauty Canada is offering savings cards of up to $50 depending on what you spend, between now and November 30th.  Your combined purchases must equal $75 or more to qualify.  The savings card will be sent to you via email by December 31st 2012 and will expire on February 15th 2013.
Savings Card Details:
Spend $75 to $249.99 – Receive $10 card
Spend $250 to $499.99 – Receive $25 card
Spend $500 or more – Receive $50 card
What a great time to get the Atelier Cologne Collection Absolue for $250.  The collection includes five 30ml bottles with the fragrances Orange Sanguine, Grand Neroli, Bois Blonds, Trefle Pur and Oolang Infini.  Each bottle is refillable, so you can purchase the larger 200ml bottle and continue to refill the small one.  I have not tried these scents, but they do sound interesting and you would qualify for a $25 savings card.
There is quite a variety of hair tools to choose from, but I like the sound of this T3 Featherweight Hair Dryer for $200.  Apparently, this hair dryer is clinically proven to be healthier for your hair than just air drying and it's whisper quiet, weighing less than a bottle of water.  This set comes with 2 replacement filters and a bonus micro towel. It is available in the colours white, black lace and taro lace.
I have always wanted to try some sort of roller set and still never have.  This Profiles Spa 14-Roller Ceramic Hairsetter for $86 sounds like one I might try.  These curlers have a ceramic core which creates curls quickly and gently.  The curlers included are 4 small – 3/4", 4 medium – 1", 4 large – 1 1/2 ", 2 Jumbo – 2" and 28 butterfly clips.  It sounds very simple to use, which suits me.
Some of the products here are quite expensive, so if you're looking to purchase one, now's the time when you can get some of your money back.
Shipping: Free on orders of $50 or more.
(Expiry: 30th November 2012)